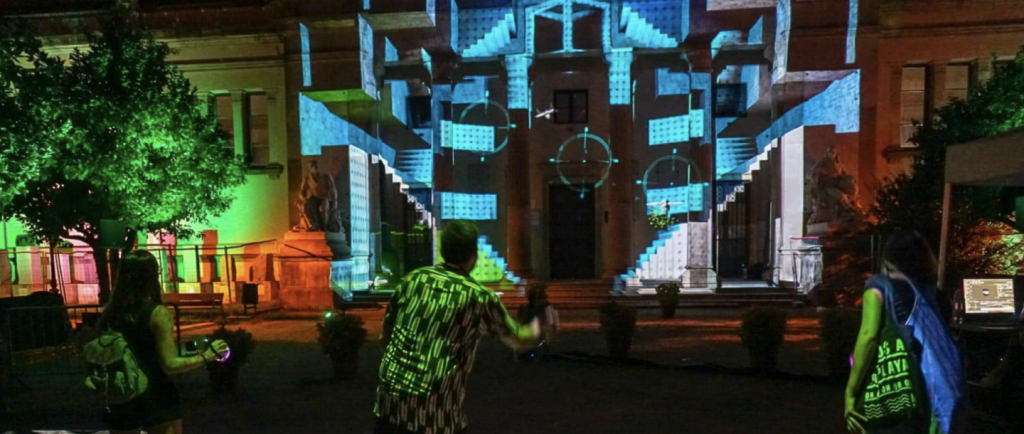 AMADEUS: New Horizons is an Interactive Mapping in which users interact with a building through 3D printed controls.
Context
Eyesberg Studio was facilitated the facade of the Museu Martorell de Geologia for the MAC FESTIVAL – La Mercè 2018 to create an interactive mapping.
Interaction
The mapping takes over the whole facade of the museum, becoming your gaming screen. Instead of a joystick or a keyboard, you have two types of controllers:
A light ball formed mainly by a LED strip, an IR LED, and a vibration engine (for the firefly hunting scenes). We added an adjustable strap to ensure that the users won't drop it by playing.
A laser cylinder as a laser pointer (for scenes of eliminating elements from the stage). To maximize ergonimics we added a silicon cover so the cylinder became less slippery.
In the next videos you can see how users were interacting with the light balls:
Here you can appreciate how the laser was tracked in our custom software:
My task
I assisted the team in the production of the controllers by soldering the circuits and assembling them inside the 3D printed cases that we printed in-house.
During the 3 days of the festival, I was in charge of repairing the controls that were getting damaged or out of the battery to ensure the success of the activity.