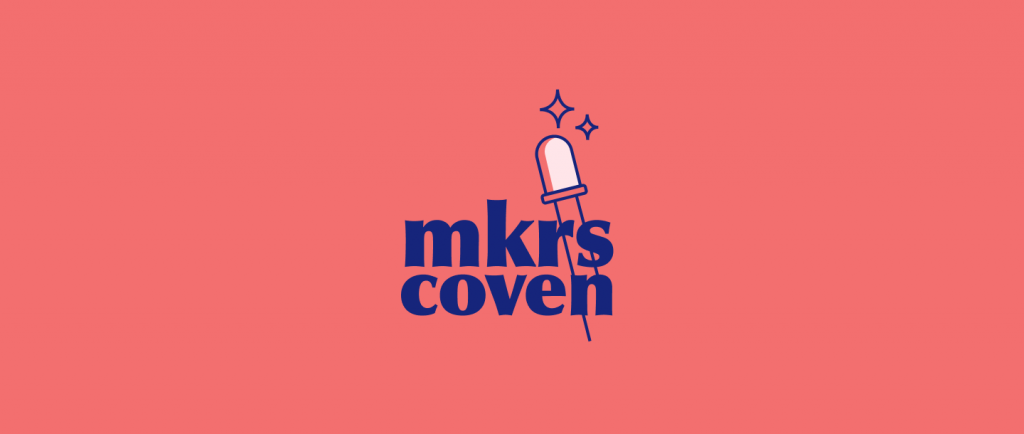 Mkrs coven (Makers coven) was born with the purpose to make tech more appealing to girls (but also to designers in general) by explaining complex concepts in an understanding and funny way. We are 100% supporters of STEAM* education.
*Science, Technology, Electronics, Art and Maths.
What, why and how of Mkrs coven
During my masters in Advanced Interaction, I was introduced to Arduino and I was fascinated about the fact that I could be able to program things that could move in real life, and that I could also get data from it with infinite sensors which would also allow me to create experiences. So yeah, I loved it and I wanted to know more.
But when you step out of the basics and you get involved in more advanced topics, all of the content related to electronics is targeted to men, is it hard for women to find themselves confident in that area.
This TED talk from Debbie Sterling inspired me so much, as I found answers to many of the thoughts that I had when I was a little girl building "elevators" for my Barbies. About how engineering is a boys club, about how around 6 years old, most the girls start losing interest in maths and science and where they think it is because we are just not good enough, but because it is a cultural thing. We grow up becoming princess, boys grow up wanting to be engineers. I was the creative one, but I never felt smart. But I won't get sentimental now, let's focus on this project.
"Mkrs" comes from makers, a technology-based extension of DIY culture that intersects with hacker culture and revels in the creation of new devices as well as tinkering with existing ones. I didn't do the definition, it is from Wikipedia, which made it clear enough 😉
A "coven" is a union, a collection of individuals with similar interests or activities. Traditionally, the word made us think about an assembly or band of usually 13 witches, so I wanted to keep the union part, with a witchy aesthetic, but not getting into the gothic looks.
Once established the theme of the community, I was in need of something that could help me to create content to enrich the Instagram feed. So I thought about creating "The book of mkrs" aka "The book on shadows" as the book of spells that will guide you through your process of becoming a maker. Your maker "Bible". But an appealing one, one mostly targeted to girls, but also to boys who care about aesthetics. As a graphic designer, I wished I had an easy to understand, visual guide to help me discover the world of electronics. So this is what I am trying to create!
Colour palette and fonts

The colours chosen for Mkers coven are girly, but not. Why has pink to be defined as a girly colour? Why blue is a boyish one? We use both. And we are not gender defining ourselves.
Optima Extra Black is for headlines and our logo
Rubik Regular is for general text. We highlight with Rubik Bold. We have chosen to with the contrast of a heavy weighted but delicate serif font with incredible serif endings (check the "f" in this headline, for example) and a serif font to ensure readability.
Instagram feed structure
The feed is structured in 3 types of post:
#bookofmkrs post: the guide to become a Maker and don´t die in the attempt as a carousel.
Makers comics post an illustrated funny reminder of what we have learned before or teaser of what we will learn.
Image: repost of cool projects that have been done by makers.
Carousel examples
How do LEDs work?
What are push buttons and how do they function?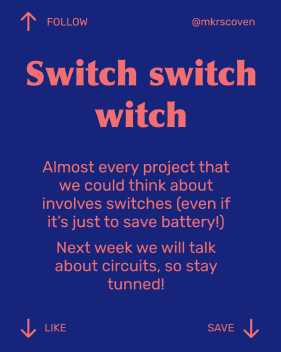 The real why behind this
You know what? If you ever thought that you are not smart enough, it is because nobody explained things to you properly. Think about that teacher that is seen to have the "super hard subject that nobody passes". It is not about us being not intelligent enough, it is about that teacher failing his/her teaching skills.
And this is what I love about the STEAM community and why I think that education has been wrong the whole time. But hey, things are changing and more and more countries are adopting this new educational models.