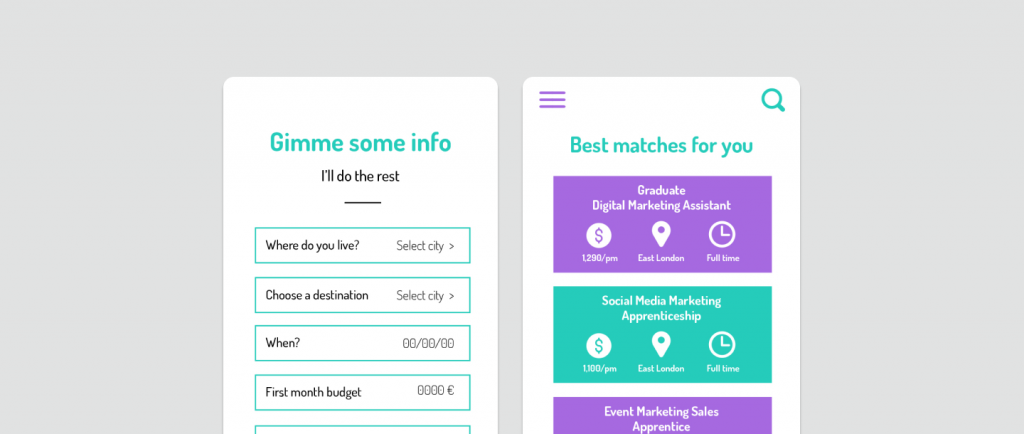 The guide for those that don't feel comfortable in their countries or cities or that they can't find a good job opportunity and they want to leave.
The context
Due to the financial crisis that started in 2008 in Spain, some Spaniards emigrated looking for a job, mostly to the United Kingdom, Germany, or France. The situation was terrible, more than 6 million unemployed people.
Most of these emigrants are young people looking for a decent salary due to the lack of offer in Spain and low wages.
Our users, recently graduated, see themselves forced to work for minimum wages as interns, with the justification of their employers that they are offering them experience.
In this context, these users have seen themselves in the situation to emigrate to other countries looking for better conditions.
Experience map
When someone decides to leave, some doubts and fears come up to his/her mind: Will I find a job in my field there? Will I have to work first in hospitality to know the language and keep moving until I find something better? My quality of life will be better than back in Spain with my parent's support? Am I really conscious about this huge step I am taking? I am ready to leave alone and feel lonely away from my family and friends? Will I finally find my way?
These people find themselves in an exciting moment of their life, they are leaving life as they know it, for now, to do a huge step forward and try to improve what they had in their countries of origin.
This process has to be followed by some basic steps that have to be thought carefully:
Money: They should have been saving for months (their own money or family money support), at least for covering the first month in the new country. What they need to cover? rent, food, transport… and some extra savings just in case.
Apartment: Finding an apartment in a new city can be really difficult for some people. Things to consider: living alone/sharing house/sharing room, zone (near the center/work/underground/somewhere cheap/somewhere safe) and the deposit they ask for (sometimes they ask for more than a hole month of deposit + consider agency fees, all this adds up the amount of money needed). It's important to start looking for an apartment before moving to that country because the firsts days the usual is living in a friend's house (luckily), ''Airbnb'' or hostel, so that can cost extra money too.
Job: They can start sending their cv's online before moving, ask friends (even people from Facebook groups of that city) if they are aware of some job offer… or they can wait until they are in the new city and start looking, same steps, online or friends, or handing CVs personally.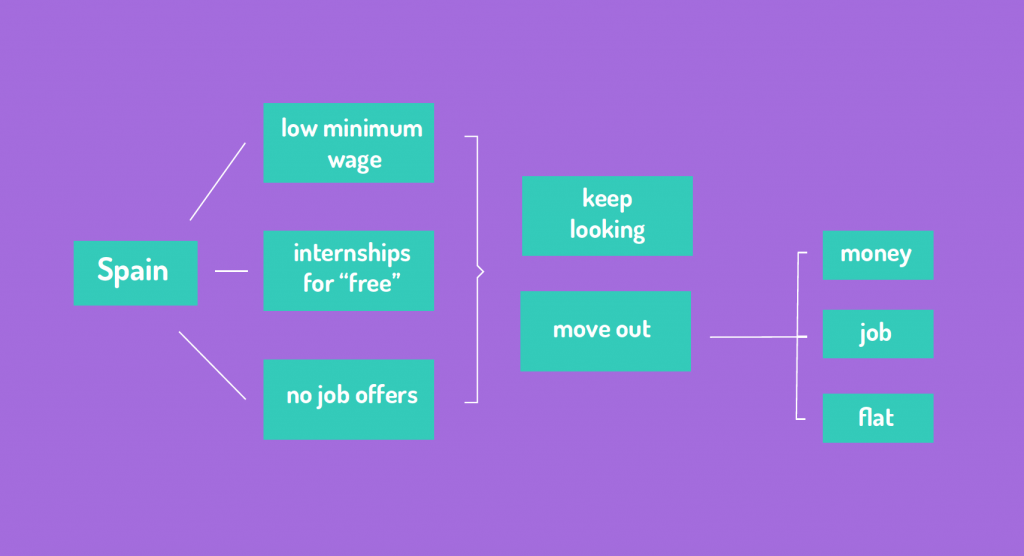 The user
People with tendency to travel (if they haven't done it yet, they are looking for the opportunity to do it), without fear of leaving the nest, passionate about the adventure, and about knowing other cultures from the inside.
Even though the possible fear of leave everything behind, they want this adventure. It's what motivates them. They want to build their own lives, far away, mostly without parents support… and expanding their borders will be the solution for this people with ambition and high aspirations. People that don't accept what they have and they want to improve it.
Their functional needs are: find a job, improve the language (if needed. While their emotional needs focus on adventure, grow up, be independent, change of context, autonomy.
The personas are between 21 and 30, middle class, with a degree or superior education, tired of trying to find a good job in Spain, living with the parents or not, but without a good salary and looking for a better life, away. I will be focusing on Spanish young people for this project.
The users of this project are young people that love traveling, maybe they haven't travel a lot yet but they want to. Sometimes they don't care about the destination, they travel where and when it's cheaper (of course with some boundaries) and they don't go to fancy hotels, they are more of cheap hostels just for sleeping or staying as guests in houses from apps like Airbnb. Their aim while traveling is to explore this new place, take pictures (and share them in social media), and have a good time. They use to travel with friends or alone.
The purpose
To give support to all those graduates that want to move to another country and improve their lives, from the moment they take this decision until they are completely settled. At the moment, the app only helps moving out from Spain to the United Kingdom.
This support will be free, I position myself totally against agencies, because they charge you a lot of money (500€ sometimes) for helping you with some steps that you can easily do yourself.
The format: a mobile app
I want to help young people to move out to another place, and nowadays almost everybody has a smartphone.
Why an app and not a book guide? Because the app makes interaction possible (and possible updates), also it's thought to be always in their pocket, always ready to help them whenever they have the need.
Movi is the solution for those recent graduates that are willing to find a quality job in the context of low salaries and internships for free, so they decide to move out to another country (for now the UK) to improve their situation.
1. Profile setting
Movi generates a profile asking the user some questions that would define Movi's filters while providing the user the solution to his/her problems.
2. Basic budget generator
Movi calculates the user's monthly basic budget based on three basic needs: flat (whole flat, studio, flat to share, room to share), transport cost (Oyster card, Santander's cycles, etc), food.
And to make the numbers rounds adds extra expenses (for example some beers after work) These options can be modified, Movi starts the list with what it thinks is more appropriate for you but we know that everybody is different.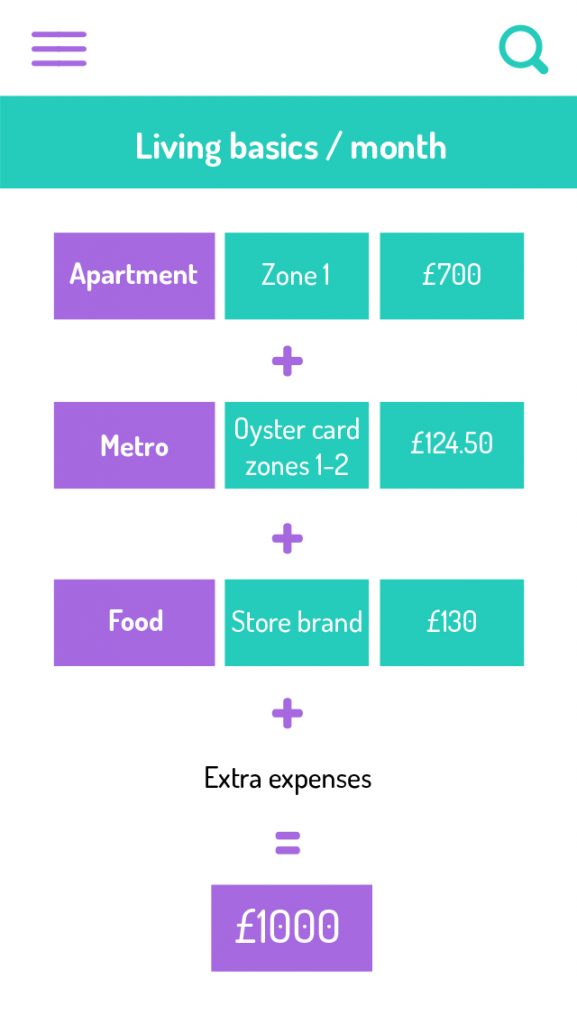 3. Suitcase checklist
Movi doesn't want you to forget anything, so generates a list of the stuff you might want to bring to your new adventure.
To be more accurate, before generating this list, Movi ask you about the activities you are willing to practise while your stay.
Movi knows that sometimes, we think that we are going to do a lot af things cause we are full of energy in that moment, and at the end we don't, so Movi ask you twice to make you think if you really need those items.
Once its generated, you will be able to modify it whenever you want. Movi will send you notifications to remind you those items you haven't marked yet, just to make sure that you don't forget anything. Also makes some recommendations about personal items that you might miss (pictures of your family, food that you won't find there, etc).
4. Apartment finder
Based on your preferences and your bugdet, Movi will search for the best offers.
The interaction is easy, swipe left if you don't like it, swipe right if you do. If you swipe right, you are able to see more details about this room and the possibility of contact the landlord by double tapping the heart.
The landlord will recive a notification that you are interested in the offer, so he/she will check out your profile and contact you via Facebook.
5. Job finder
Movi asks you a little bit more information about yourself to make sure that it will be looking for the better job opportunities and not making you loose time checking unneccesary offers.
If you like any offer, tap on it and you will get more information about it. And again, double tap to notify the employer.
6. Notifications
Movi really wants to make sure that your adventure is going to be successtul, that's the reason why Movi sends you notifications reminding you the things that you haven't got in your suitcase yet, new job and flat offers that might interest you and also provides you good tips.
If you don't want this option, you can turn it off on Settings.