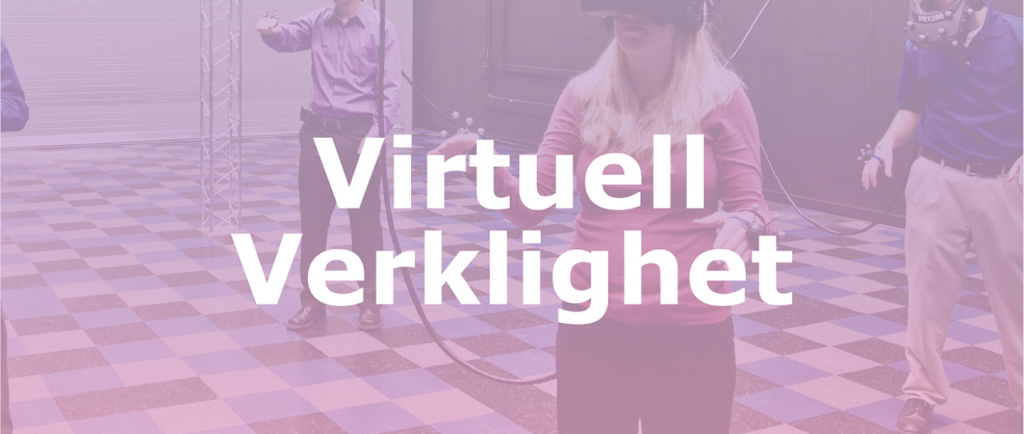 A space created to be a "kindergarten" for young people and adults that combine technology and fun through glasses of virtual reality instead of spending hours wandering in the store.
The reason behind this
I am an IKEA fan, like many many others. But, I am aware of all those who unfortunately suffer (a lot) every time someone asks them to go to IKEA.
By creating a playground, IKEA smartly thought about kids, but also about their parents, who could focus on buying instead of looking after their little ones so they don't break anything.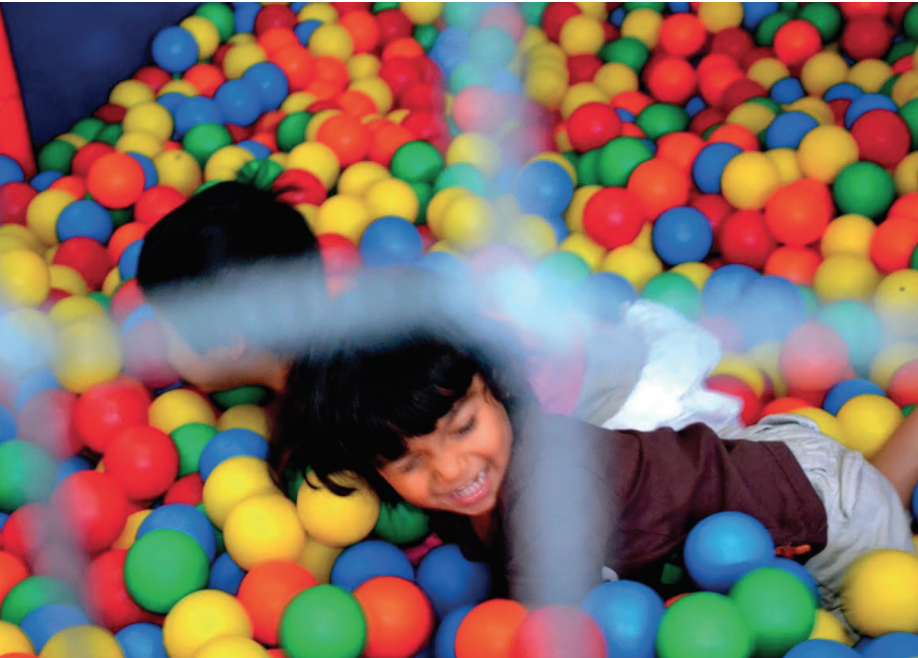 But, what about those who aren't that little? Here it comes the VR space for young people and adults, Virtuell Verklighet (Virtual Reality in Swedish).
Located in the IKEA parking lot, Virtuell Verklighet is a space created to be a "kindergarten" for young people and adults that combine technology and fun through glasses of virtual reality and with an atmosphere of neon lights. It is a space for people who refuse the IKEA experience and for those who enjoy it, but especially in the first group and that we define, above all, for men.
We have the idea, but how could IKEA target its campaign?
Outdoor advertising
With posters located in OPI format on the street, they show the new space or product, and it is accompanied by a phrase that encourages those who do not like IKEA to go to the VR space in the parking lot instead.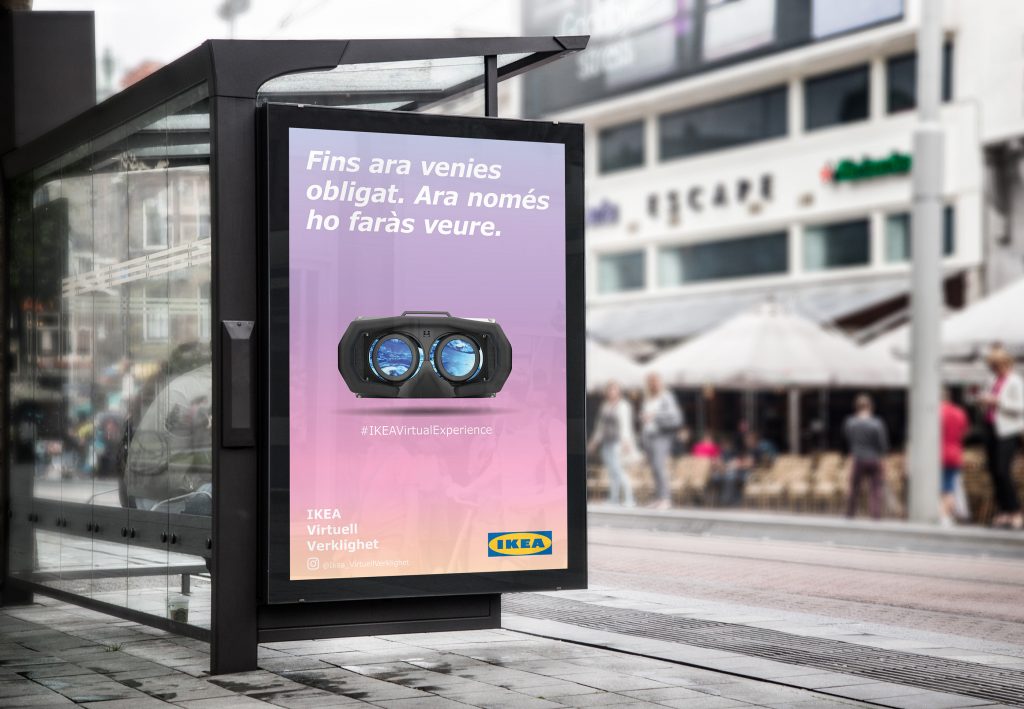 At the same time, an online campaign would be running with banners displaying those sentences as a gif.
First contact
Maybe the users have seen the ads, maybe not, but they are entering IKEA by car, so in the parking lot they have these funny neon signs alerting them to make a decision. Table or VR? You choose.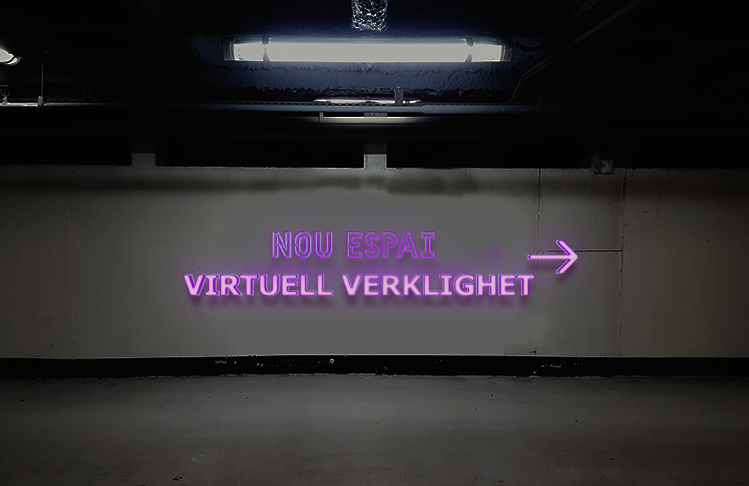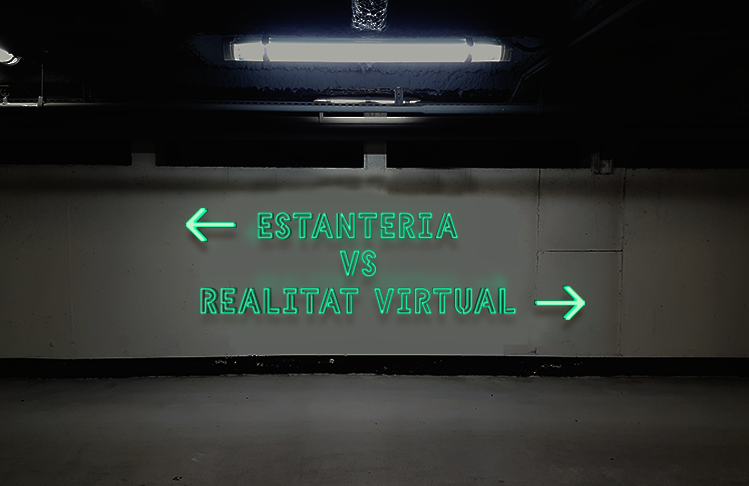 Located in the parking lot, the signage is used to indicate the new space through neon lights to all those who have entered IKEA by car. The message we wanted to give with the signage is that "there is something more fun than buying a shelf, playing virtual reality in our new space"
That is why each signage has two indications: one that leads you to do something boring, and the other to play.
Second contact
If even we let them know that there was an escape, but they didn't take it, we would remind them in-store with labels in highlighted furniture that serves as a "Call to Action" (literally, but using coloured lightbulbs).
The labels are also intended for all those who have entered the street door instead of the parking lot, not only for those which did not understand the parking lot signposting.
Labels include messages that encourage you to get off at the parking lot to get to know the new space.
In addition, these pieces are made with holographic paper, which reflects certain colors according to how you look.​​​​​​​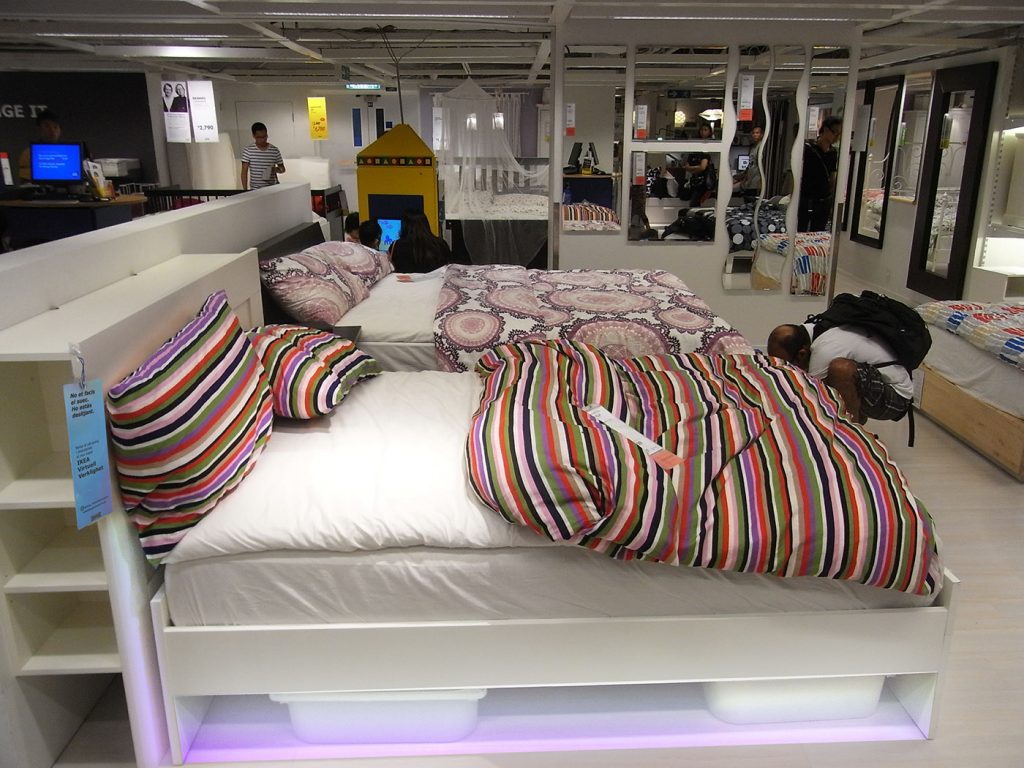 The VR room
Now that you finally have taken the decision to leave the store, you arrive at Virtuell Verklighet, a space built through the idea of simplicity, like all IKEA products. It is white in its interior and exterior, and it is acclimated with neon lights.
As you can see below, the space includes sofas as the only element that interests aside from the glasses of virtual reality.