Enhancing brand awareness and boosting sales through AR try-on filters.
Context
Despite the concept of Augmented Reality (AR) being developed in 1968, it wasn't until 1990 that the term was coined, and it took another two decades before smartphones integrated the technology to make it accessible to the masses.
AR is still relatively unknown in 2021. Like Virtual Reality (VR), not many people believe in its potential, but we're starting to see some industries betting on it. The more interest in AR, the faster it will grow.
This new technology has proven its potential in the military, health care, enterprise training, and even videogames. Its popularity recently has grown thanks to Pokemon Go, which has made AR more accessible, which brought AR closer to the masses. AR is no longer an unknown technology, but this "concept" of what the future will look like.
People tend to ignore the fact that the future will look radically different from the context we live in today. They don't want to think about it, they rather just adapt progressively. And that's just fine! It is our job as designers and technologists to think ahead and plan how the transition will look to be welcomed by the people.
But for AR to really take off large-scale, it needs to be embraced by more mainstream industries, and this is what has been going on for 5 years.
Let's put the fashion and beauty industries as a great example of this transition since several fashion and beauty retailers are using Augmented Reality as a strategy to boost sales.
AR as an online marketing strategy
Let's start with a little bit more context first to dig deeper in one of the factors that has impulsed this digital revolution.
Online shopping has become more popular during the 2020-2021 pandemic since the shops were closed for months, forcing many retail companies to go online in order to survive. Online shopping did experience a boost of sales in some areas, such as interior and fitness supplies, but one of the biggest industries, fashion, saw how its sales went down around 20%.
This decrease in the consumption of apparel was mainly caused because of a lack of a desire to need to buy new clothes, basically no need to "show off" at work or on the street. But of course, also because in times of recession, people tend to save money. And one surprising fact, it is that has always been told that during a recession lipstick sales go up (so women feel empowered by using something that is relativity cheap), but during this one, lipstick consumption dropped drastically, basically because our mouths are covered by face masks, what made eyeshadow sales increase!
So, how did the brands adapt to this?
One of the biggest references in fashion and design worldwide, Dior, created its first AR makeup filter for Instagram. In this case, they didn't do a simple AR try-on, but they created an experience that opened the door to a new model of engagement with users in social media.
In the past magazines such as Vogue or Elle were our main source of inspiration in terms of style. But since the boom of social media, Instagram was already one of the biggest sources of fashion inspiration in 2017. According to a Facebook IQ survey, more than 56% of Instagram users said they get their fashion inspiration from the app, followed by Pinterest (53%), TV (48%), Facebook (46%), fashion magazines (36%) and Snapchat (26%).
The need of AR as digital strategy
Digital marketing is rapidly adapting to the emergence of "camera marketing," as smartphones with integrated cameras have revolutionized how consumers interact with the physical world. However, many brand marketers have not yet had the opportunity to use social media AR, so knowing how to launch an effective Instagram AR campaign and measure ROI can be challenging.
Despite that, brands have adapted very well to social media as a platform to boost sales. Most of them are active on stories and posts, creating engagement daily.
They have all adapted to stories and most of the stories were first introduced by Snapchat in October 2013, and Instagram took the idea and ran with it. But if we dig deeper into the origins of AR on stories, Snapchat was a pioneer in 2015 with Snapchat Lens, and it was not until 2017 when Facebook got into the game too, and therefore the boom in 2019.
But Instagram is not the only source for AR filters for fashion and beauty. Take as an example Gucci, which in its app includes this technology for eyewear, hats, sneakers, watches, lipstick, nail polish and even home decor!
Using social media to boost sales
Now brands don't have to limit their Instagram Stories campaigns to the swipe up call-to-action but can use product stickers to drive traffic to their website. Tagging products in Instagram Stories can be a more subtle approach to highlighting product details.
Products can also be directly tagged in posts and the checkout can be done without leaving Instagram through Instagram Checkouts, which allows consumers to buy products directly through the app making it an easier shopping experience.
Along with Checkout, Instagram is also testing features that let you virtually try products on using AR filters in Instagram Stories.
The idea
As Rouje, a Paris fashion brand was running a promo where you could get a "Sophie" lipstick for free with a purchase of over 250€, I thought about creating an AR filter to be sure the shade would fit me.
I chose "Le Stylo" instead of the regular lipsticks because there were fewer shades available, whereas the other had too many, and it seemed like it was a really cool product.
Some people do "fan art", I thought about doing a "fan filter".
Tools and process
Making an AR filter can be very easy if you use Spark AR, which I have been testing for a while already. I used Photoshop to create the mask for the lipstick, and Figma for the text.
Step 01: Defining the colour palette for the lipstick try-on
I went to Rouje's website and found a lipstick with enough shades in order to do this experiment.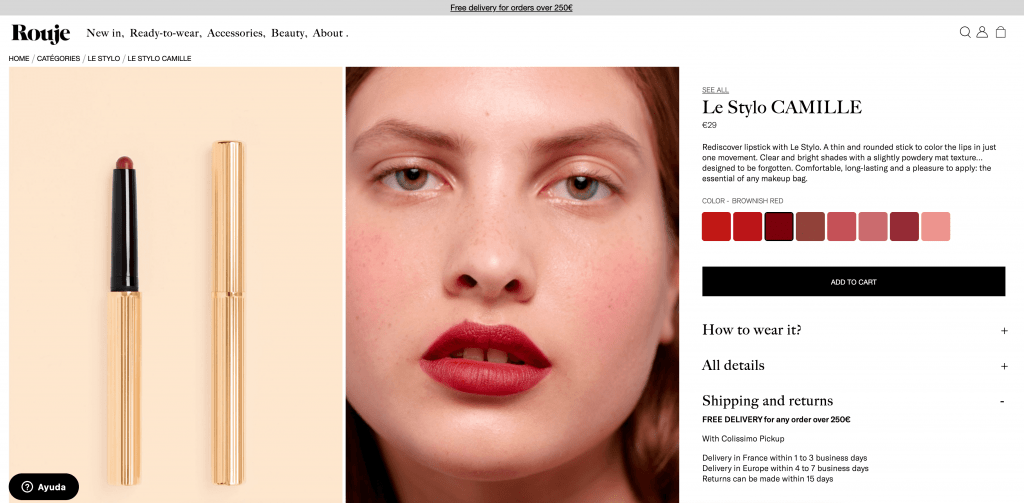 02: Creating the lipstick mask
Then I downloaded Spark AR face reference assets and opened the face mesh in Photoshop in order to do the lipstick mask, and coloured it following Rouje's lipstick shades.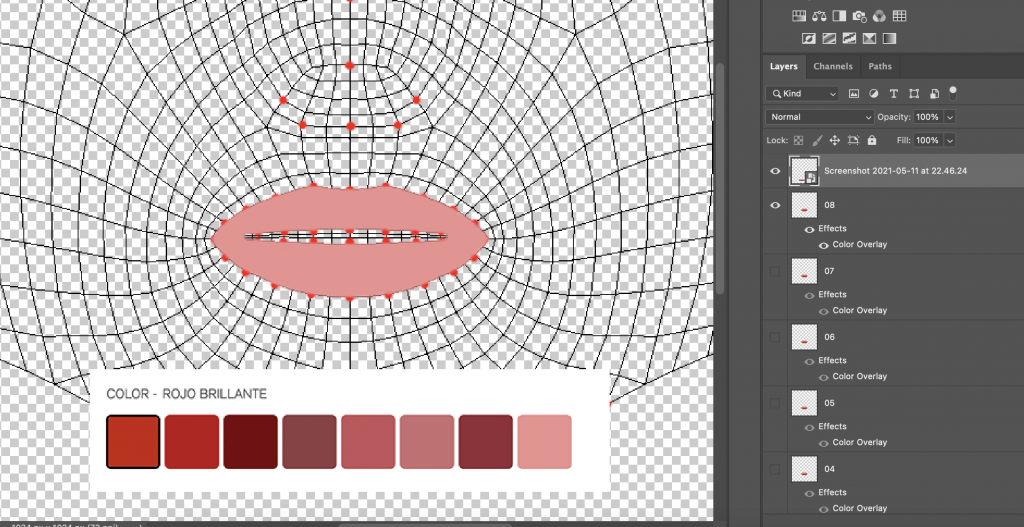 03: Styling it with Figma
In order to make this AR try-on more efficient as a marketing strategy, I added the name of the shade as a guide for the user in order to be able which one to buy.
Since I wanted it to look as much close to their brand guidelines as possible, I took as an example one of their most recent banners.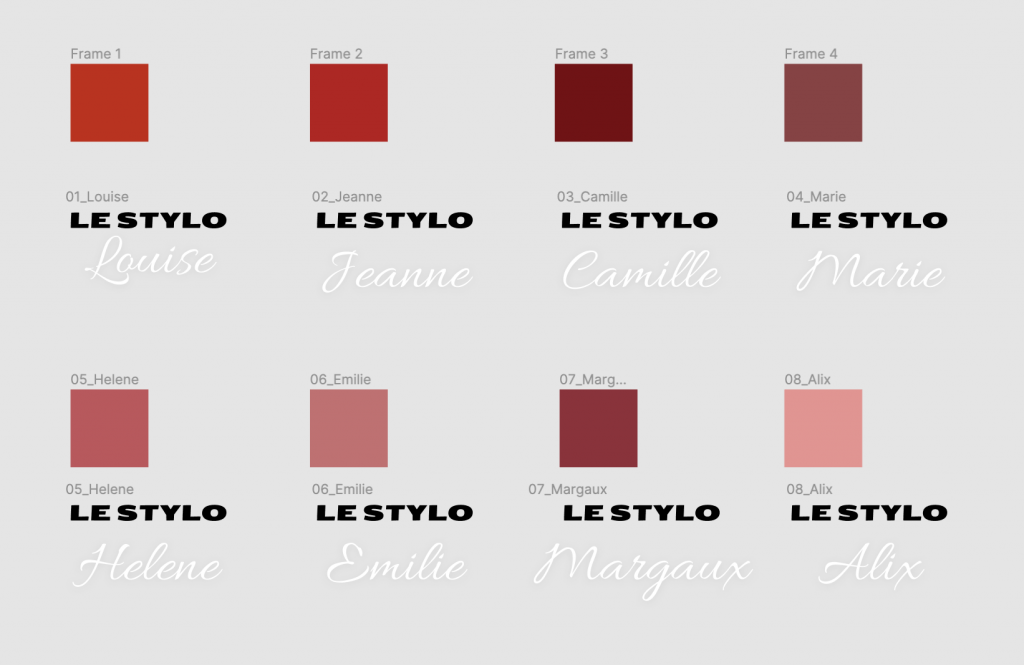 04: Creating the patch in Spark AR
Since I have already done a few filters in Spark AR, doing this one was very easy.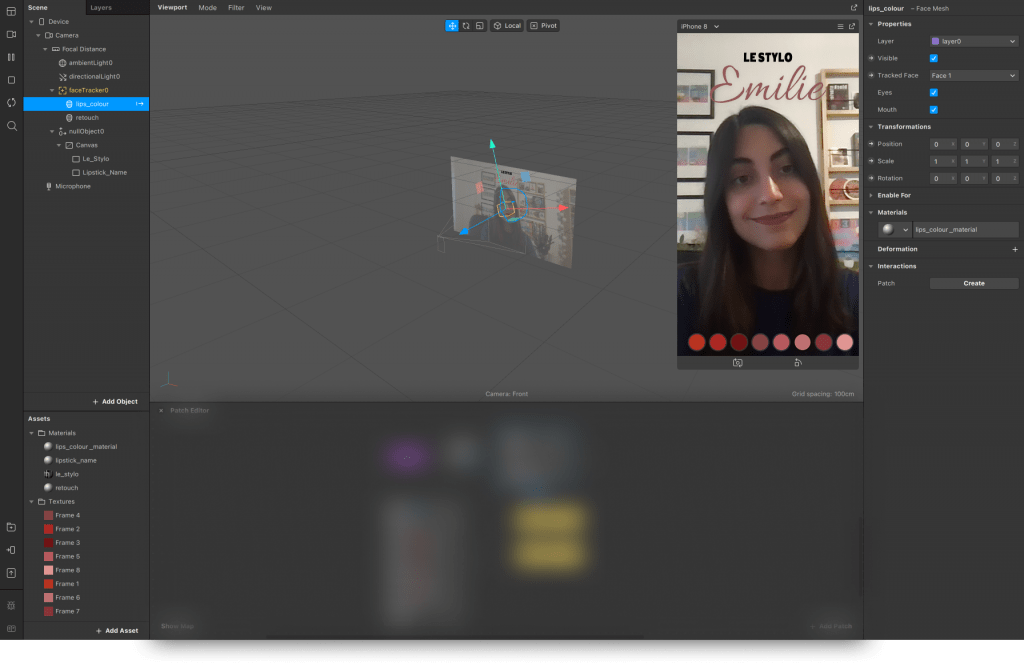 Once the filter was functioning, I modified the text appearance in order to be readable.

I ended up assigning the shade of the lipstick to the name, for continuity and better integration of the shade and the name of the product. This would help the potential buyer to recognize better the lipstick that she/he would live to get on the store.
The final product (W.I.P)
An AR filter that allows Rouje's clients to try on their Le Stylo lipstick through their Instagram profile.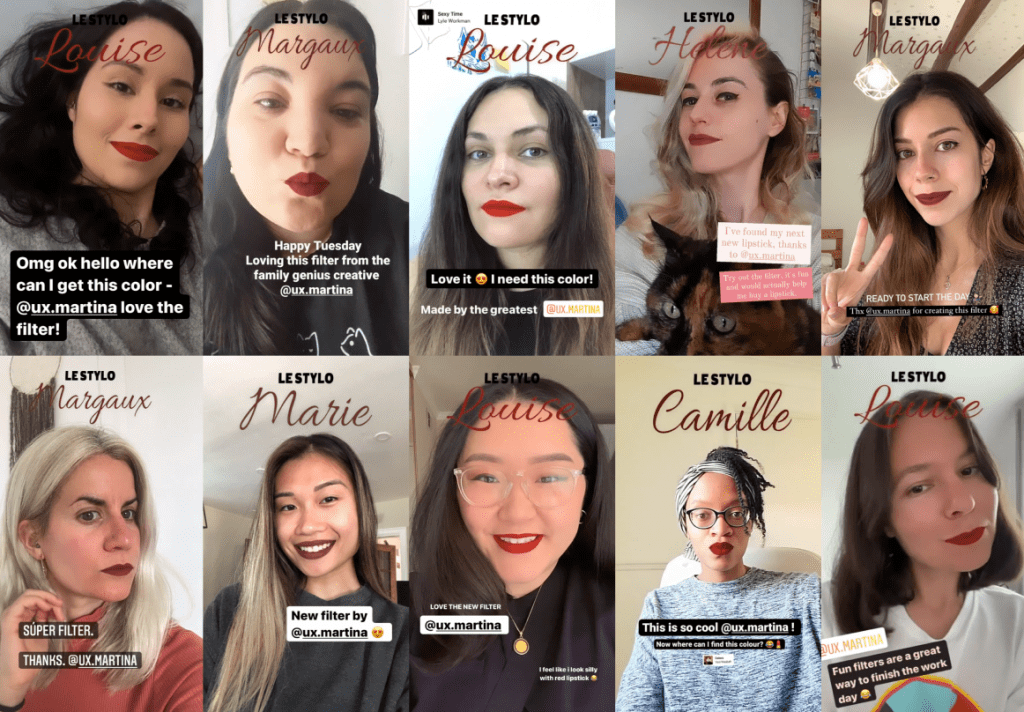 Here are the results after 48 hours of activity: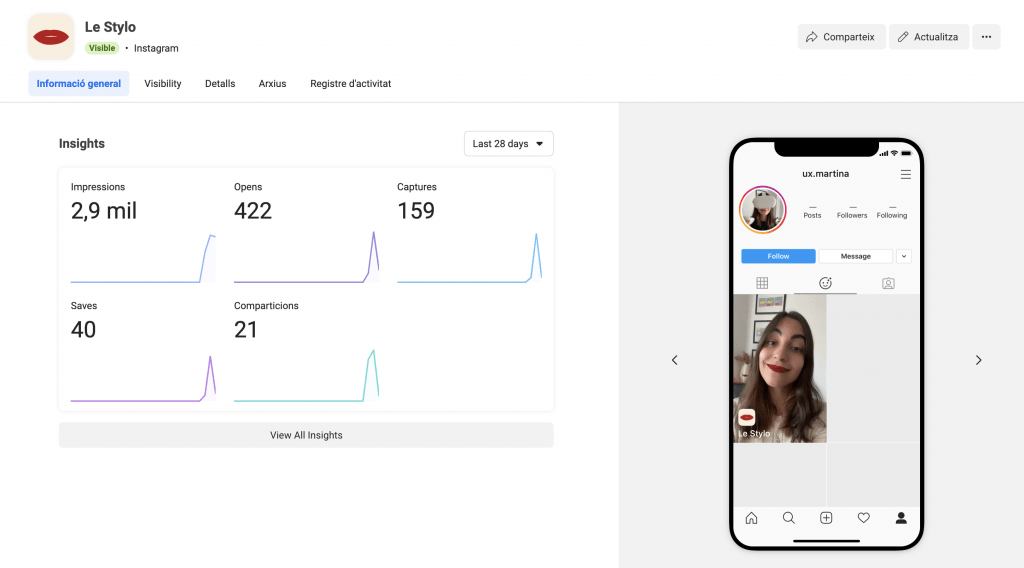 Companies with a huge volume of followers (ie Rouje has 770k followers) would have a bigger impact than the statistics that I will achieve at the end of this experiment (my account is very small!). Therefore, a campaign like this would be very cheap in comparison to the impact that they will get.